Dead Birds Fall From Sky In Sweden, Millions Of Dead Fish Found In Maryland, Brazil, New Zealand
The Huffington Post |  Travis Walter Donovan
First Posted: 01- 5-11 09:11 AM   |   Updated: 01- 6-11 11:17 PM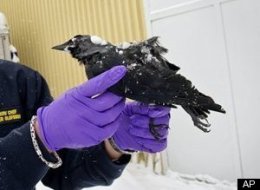 UPDATE: Hundreds and possibly thousands of dead birds have reportedly fallen from the sky in Italy.
UPDATE: Wildlife officials say that even more previously unreported dead birds were found in Kentucky last week.
Millions of dead fish surfaced in Maryland's Chesapeake Bay in the U.S., Tuesday, while similar unexplained mass fish deaths occurred across the world in Brazil and New Zealand. On Wednesday, 50 birds were found dead on a street in Sweden. The news come after recents reports of mysterious massive bird and fish deaths days prior in Arkansas and Louisiana.
The Baltimore Sun reports that an estimated 2 million fish were found dead in the Chesapeake Bay, mostly adult spot with some juvenile croakers in the mix, as well. Maryland Department of the Environment spokesperson Dawn Stoltzfus says "cold-water stress" is believed to be the culprit. She told The Sun that similar large winter fish deaths were documented in 1976 and 1980.
ParanaOnline reports that 100 tons of sardines, croaker and catfish have washed up in Brazilian fishing towns since last Thursday. The cause of the deaths is unknown, with an imbalance in the environment, chemical pollution, or accidental release from a fishing boat all suggested by local officials.
In New Zealand, hundreds of dead snapper fish washed up on Coromandel Peninsula beaches, many found with their eyes missing, The New Zealand Herald reports. A Department of Conservation official allegedly claims the fish were starving due to weather conditions.
While all three events are likely unrelated, they come after recent reports of mysterious dead birds falling from the sky in both Arkansas and Louisiana. Thousands of dead birds were found in Beebe, Arkansas on New Year's Eve, and a few days later, around 500 of the same species were found 300 miles south in Louisiana. A Kentucky woman also reported finding dozens of dead birds scattered around her home. In the days prior to New Year's, nearly 100,000 fish surfaced in an Arkansas river 100 miles west of Beebe. Officials are now saying that fireworks likely caused the Arkansas bird deaths, and power lines may be to blame for the death of the birds in Louisiana.
Some remain skeptical of the explanations. Dan Cristol, a biology professor and co-founder of the Institute for Integrative Bird Behavior Studies at the College of William & Mary, told the AP that he was hesitant to believe fireworks were to blame unless "somebody blew something into the roost, literally blowing the birds into the sky."
Wednesday, officials in Sweden reported the finding of 50 dead birds on a street, suggesting that cold weather or fireworks were the likely culprit.
Bird deaths and fish kills at smaller numbers aren't all that uncommon, though the size and proximity of some of the recent events have led people to allege their relation, though officials deny the frequency of these wildlife deaths as being anything other than coincidence.
In August of 2010, tens of thousands of dead fish were reported washing ashore in two separate occasions, 200 miles apart on the East Coast.
CLICK HERE to let us know what you think caused the mass bird deaths. While many of the animals are undergoing tests that could take weeks to yield comprehensive results, some officials attest that the true cause behind these mysterious deaths may never fully be known.